Life and Bronze, A Sculptor's Journal
by Ruth Abernethy. Part memoir, part 'secrets of the sculptor's craft', part celebration of Canadian culture and talent...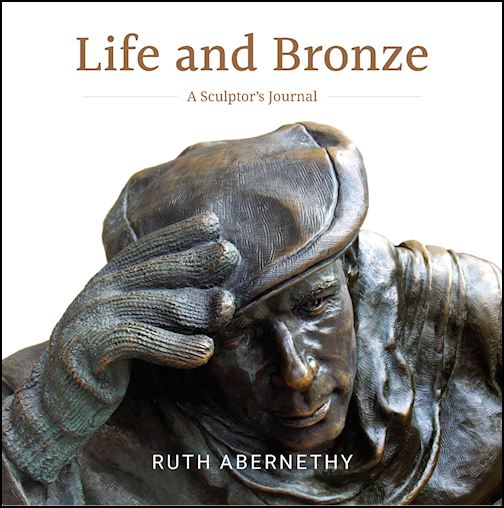 ...Life and Bronze, A Sculptor's Journal is the story behind Ruth Abernethy's rich and varied artistic career. The author describes each of her sculpting projects, from opening discussion, to creation, to installation and public unveiling. We discover what the public chooses to commemorate, how a sculptor resolves clear expressions of character, and how this process fits into a full family life. Life and Bronze is a lavishly illustrated record of bronze portraits created in the privacy of Ruth's studio and let loose to live on the streetscapes of Canada


E-book
CDN/US $9.99
Buy it online



To stay tuned about upcoming book events, follow us on Facebook & Twitter
Ruth Abernethy - Sculptor

Life and Bronze, A Sculptor's Journal
Interactive Map of Ruth's Commissioned Sculptures:
---
Testimonial
"For any Canadian, Ruth Abernethy is a singular chronicler of our nation's history, embodied in its most notable citizens and heroes. Her work palpably expresses our feelings for the great Canadians who shaped our history, our sense of ourselves as a people and our national psyche.

Just as the last Yousuf Karsh was able to translate a monumental sense of emotion and identity into microscopic particles of silver halide, so Ruth has the mysterious gift of infusing bronze with an arrestingly corporeal sense of identity, personality and vitality. Bronze is her matter, and she invariably gets to the heart of it.

It is a matter of constant pride for the Glenn Gould Foundation that Ruth has brought the intensity of her vision to our namesake, Glenn Gould, and depicted this great artist twice in such powerful, memorable and iconic ways."
Brian M. Levine
Executive Director
The Glenn Gould Foundation
---
Reviews
Ottawa Review of Books
Reviewed by Timothy Niedermann
Large format "coffee table" books have a bad habit of ending up lying in decorative stacks at strategic places around one's living room, or worse, being stuffed into a bookshelf for show, after having been maybe leafed through just once in a hurry.

"Life and Bronze" by Ruth Abernethy deserves to be an exception, a book to be read slowly and savoured for its visual impact and unexpected insights. The author is a sculptor who has developed a specialty creating "bronze portraits" of famous Canadians. Most of these are outdoor works, placed in parks or similar public spots where they are meant to be encountered easily by all passers-by.

"Life and Bronze" presents many of these works not just in their finished form, but also through the creative steps during which each was realized. In viewing the book's photographs, it is clear that Abernethy has a gift for rendering faces in bronze. What is most intriguing, however, is the time and effort she takes in deciding on the best way to present a particular individual as a complete person.

Abernethy's first chapter describes the process of creating her bronze portrait of Glenn Gould, a notoriously eccentric genius to say the least. Rather than seat him at a piano like any generic pianist, she places him in a reflective pose on a park bench, cap on his head and wearing the distinctive overcoat and woollen gloves he always wore when outside, even in the summer. The pose and facial expression, animated further with other small details, create a window into the complex character of Gould that a more straightforward representation could not.

And so it goes with each bronze. It is the little touches that matter; they bring out the uniqueness behind the familiar face. Abernethy creates memorable likenesses of John A. Macdonald, Oscar Peterson, Dr. Norman Bethune, the poet John McRae, even the Queen of England. There are also lesser-known but equally fascinating subjects. A portrait of T.T. Vernon Smith, who engineered the early railways in the Maritimes, has him placed looking over the very marshes in Nova Scotia he had to contend with. A large bronze map lies on a makeshift table before the figure of Vernon Smith. In a tribute to the man's work in dealing with the marshes and floodwaters, Abernethy designed the map to drain automatically after a rain. Then there is Duke, the enormous black bear, and Jeffrey Baldwin, an abused child who cherished his superman costume. To the bust of the conductor, Mario Bernardi, Abernethy adds his hands, floating in space but so evocative of the man and his art. It's this sort of well-considered detail that vividly reveals the inner life of both sculptor and subject.

The language is conversational, the tone informal. This is not an academic read by any means; rather, it is a series of personal vignettes about the creative process. Artists often seem distant, imposing, their work a challenge to appreciate. Not so Ruth Abernethy. We do learn a bit about her family life and her other career as a prop designer for the Stratford Theatre and the National Ballet, but overall we become immersed in her love for creativity and her overwhelming desire to communicate the humanity of her subjects to the public. In the end, "Life and Bronze" displays, not just one artist's talent, but the enormous vitality of Canadian culture and history as well.
BC Booklook
Vancouver can boast about bike lanes; it can make repeated vows to eliminate homelessness in order to advertise its good intentions; and it can look great year-round due to its spectacular natural setting-but the micro-managed metropolis remains in the running for the world's Worst Public Art Award.

Ideally the part-time residency of transplanted bronze sculptor Ruth Abernethy will now have some transformative effect. As evidenced in her coffee table book compendium, Life and Bronze: A Sculptor's Journal (Granville Island $60), the Ontario-raised Abernethy has created alluring sculptures and installations that people really, really, really like.

In 1999, her depiction of pianist Glenn Gould on a bench, wearing his distinctive cap, launched her solo art practice into wider renown. Commissions to replicate Mackenzie King, John A. Macdonald, "In Flanders Fields" war poet John McCrae, golfer Arnold Palmer and pianist Oscar Peterson have followed.

Having worked in theatre props departments across Canada since age seventeen, Abernethy has developed a unique method of 'mapping' 3D figures before carving them in styrene. Now she's received royal approval for a statue of Queen Elizabeth II seated on the Throne of Canada to be unveiled in 2017.

In an ideal world, the city would commission Abernethy to produce a life-size statue of beloved Chuck Davis who served as the Vancouver's unofficial, saint-like historian for most of his adult life. For decades, while culture bureaucrats directed the big bucks to so-called festivals, Davis toiled close to poverty, contributing more to the city than any artist or politician.